Sometimes you luck into being able to go to a concert you wanted to go to. Other times, you sit at the kitchen table and make the Husband Pout Face at your wife as she tells you that her friend asked her if she wanted a girl's night at the Big Sugar concert because her husband had to work.
Since that face is pretty irresistible, your wife will obviously cave and suggest that you go on her place.
This is totally how it works every time, without fail or question and questioning the rationale of this is just not rational in the first place.
So just run with it, ok?
So it worked, and I went to the Big Sugar Yard Style show.
And there was much rejoicing.
I'd sort of resigned myself to the sad fact that I might never get to see Big Sugar live. What with several years of not touring paired with those dumb circumstances where it seems when they were on tour I was never around for it, it felt like I'd just have to rely on Grady in Vancouver being the closest thing.
BUT.
The universe doth provided an opportunity.
Say what you will about big rock shows; there's something about seeing a band in a small venue do acoustic songs that just brings a whole other element to the music.
Plus, it was an opportunity to fulfill a bucket list type of item that I wasn't sure I'd ever get the chance to do. Namely, get Big Sugar to sign my Gibson.
This is important for a variety of reasons, and when I think about it, it's like a very long and drawn out process spanning back to that time years ago when Everett and I went to Rufus Music to poke around the guitar selection.
That would be the time we spent an inordinate amount of time playing plenty of guitars we couldn't afford until I looked up and saw what is, what I still believe to be, a pinnacle of a musical instrument. The Gibson Gordie Johnson signature SGJ.
Oh how I played it. Oh how I was in awe. Oh how even more awed I was when told that the man himself had actually played that very guitar a few months prior.
I thought nothing could really top that.
And then, a couple of years later, Grady played Vancouver in 2008. I can't remember how I found out about the meet and greet that Gordie Johnson was doing the night before the concert, but it was inconveniently scheduled the same night as our MPP Christmas party. At opposite ends of Vancouver. Needless to say, I packed up my Telecaster (fine, whatever, it's a Squier. I could afford it.) and bussed all the way to Long & McQuade at the opposite end of town from the Christmas party. I have never regretted this. As much as I had fun with my MPPers, some things just can't be missed.
There were about fifty people there. Just Gordie Johnson playing an acoustic, and answering random questions. After he finished playing, he signed stuff.
Thus we come to the part where I walked up to him, quite at a loss for words while uncasing my guitar. I don't even think I managed to ask if he could sign it. I just remember him smiling and saying "you want that signed?" And I just sort of nodded, all slackjawed. And then I handed it to him, a man with a signature model from Gisbon, and he went "A FENDER?"
And I went, "of shit, I've insulted Gordie Johnson."
Not out loud, mind you, but in my head I was fucking panicking.
Anyway, he laughed it off and asked where I wanted him to sign it. I kind of hummed, and he suggested the back of the headstock so it wouldn't wear off while playing.
And then I shook his hand and packed it up and, two hours late, went to the Christmas party.
And here we are, just over six years from that and Big Sugar plays Red Deer.
Ever since I bought my Les Paul, I have wanted to redeem the "A FENDER?" moment. I realize that he probably didn't care what brand it was, and forgot all about it, but to me, this was a defining moment in my life that needed redeeming.
It happens.
Before the concert, I cased it and stuck a sharpie in my pocket.
I asked one of the merch guys if they were doing a signing after. He said yes. I said "cool." In my head I went "FLKBRBRBLKTBLKRTFUCKYEAH!"
You know what I don't get about some people who go to concerts? It ends, and they just leave. They just walk past the table where there are several sharpie lined up. Just waiting. And they go. They miss that chance.
Screw those people.
I ran back to my truck. It was cold. I ran back with cased guitar in hand. Deb, my date for night that my wife had no problem with because they're pretty well besties anyway, had staked us a spot in line.
And suddenly I'm in front of the table, standing in front of Gordie Johnson and Mr. Chill.
As soon as I put the case on the table, Gordie Johnson got super excited and says "Oh, what've you got? I love this!" Case opens, I lift it up, and hand it to him.
At this point, my brain sort of stopped working.
I remember him saying something about how awesome it looked and running his hand over the body.
The only thought running through my brain was "Gordie Johnson is holding my Les Paul."
Then he asked me where I got it.
So I babbled out the story of "A FENDER?" and how I bought it in Vancouver after that to redeem that moment in part. I mean, yes, partly I bought it because one day Chad and Ryan and I watched the Led Zeppelin dvd Chad just bought. But also the redemption thing.
Then he went to hand it back, and my brain fired up again and I said "can you guys sent it down the line?"
So they did.
And the whole band signed it. And I shook their hands. And it was fucking awesome.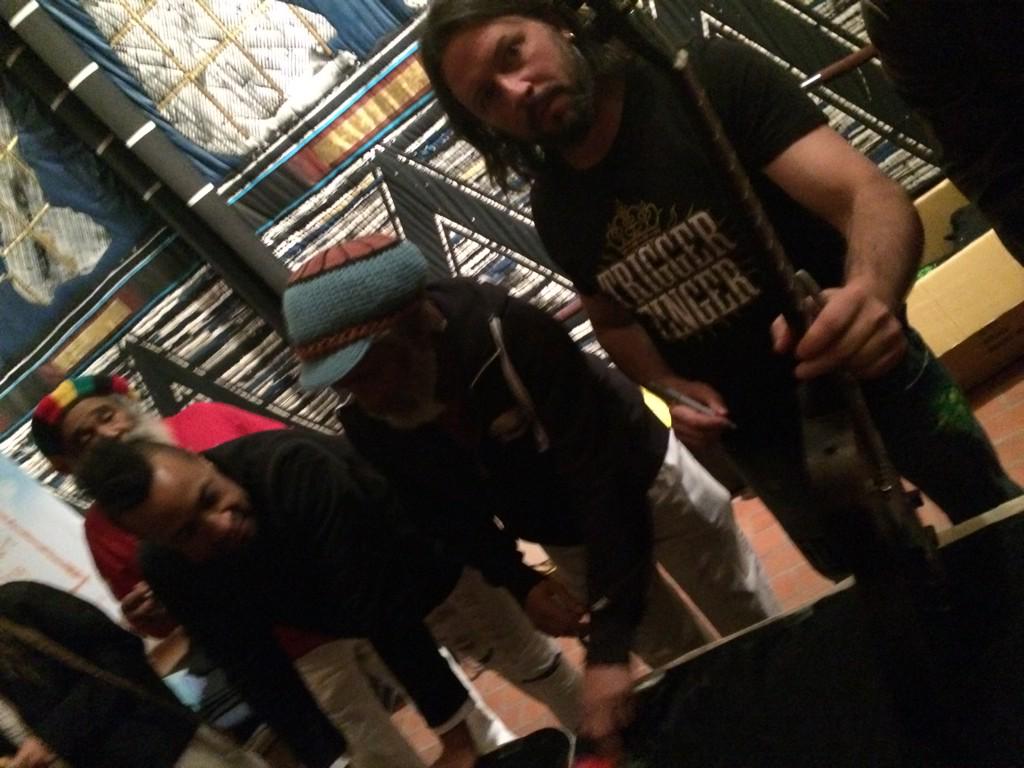 So now I can cross off Big Sugar from the "Need to See Live" list, my guitar is magical, and I have redeemed myself for something that has nagged me for years.
I've met plenty of my favourite musicians. Every time was awesome. BUT. There's just something about Big Sugar that affects me more than any others have.
No clue why that is, and I don't really care. All that really matters is that I know it, and got the chance to live that moment.
Now to save up for that elusive SGJ…